Classic 'Rope' Cornice 22
Dimensions: Height: 4.3cm, Projection: 2.9cm, Length: 200cm.
Description: A small but interestingly shaped coving profile, featuring a 'Rope' pattern. It is ideal for small rooms like bathrooms and toilets. If you like the shape but want no pattern, try our Classic Cornice 20.
For other 'Rope' cornice options take a look at our Classic Cornice 10, or our Premier Long range.
Matching Products: Classic Railing 1 & 2, Classic Skirtings 5 & 11, Ceiling Roses 1, 4 or 9. Alternatively you can continue the Rope theme with Classic Railing 7.
Adhesives: See below. Fix Extra coverage: 80ml: 60m, 310ml: 225m.
Want help or to ask about samples? Call us on 0121 449 8525
Recently Viewed Products
Classic 'Rope' Cornice 22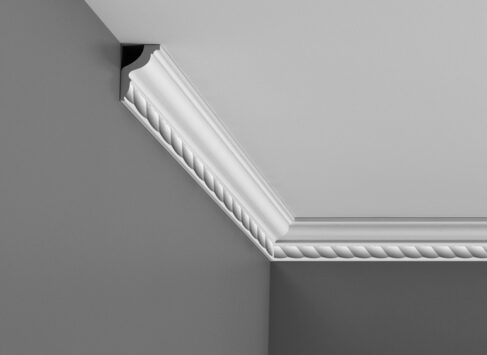 Classic 'Rope' Cornice 22
Height=4.3 cm
Projection=2.9 cm
Length=200 cm
£

10.30 inc VAT